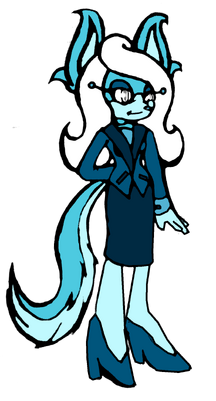 Andromeda is the firstborn child of Starfall Soulimity and Hyperfrost Soulimity . She is an aspiring Mage as well as Adventurer. She is the Queen of the Ice Ream in the underworld, and part of the High Demon Council.
Basic Info
Name: Andromeda Soulimity
Gender: Female
Age: 18
Species: Ice Demon
Alignment: Good
Personality
Andromeda is an calm, kind and collected. She has a childish side to her, though, as she can be seen giggling about things every now and then.
Likes
-Ice, the cold
-Fashion
-Family
-Magic
-Sweets
-Adventuring
Dislikes
-Not getting what she wants
-Getting to hot
Family
-Hyperfrost Soulimity (Father, deceased)
-Starfall Soulimity (Mother)
-Edgar Soulimity (Half-Brother)
-Kune Soulimity (Brother)
Powers/Abilities
-Somewhat able to control Ice
-Minor knowlage in magic
Weaknesses
-Weak to fire and heat in general
Gallery