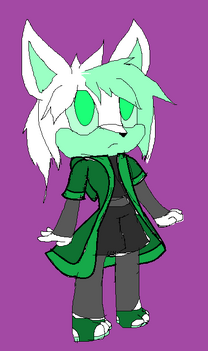 Edgar is Starfalls' secondborn child, and the son of Kurayami, however he has been purified of his demon blood, and is now pure verdesiodan.
Basic Info
Name: Edgar Soulimity
Gender: Male
Age: 6
Species: Verdesiodan (I have permission from MissHuntress to use this)
Alignment: Good
Personality
Edgar is a shy, gentle and kindhearted boy. He is very close to his mother, sister and father, and few things make him happier then making them happy.
Likes
-Making others Happy
-Helping others
-Family
-Friends
-Healing others
-Cookies
Dislikes
-Seeing others sad
-Getting hurt
-Sickness
Powers
-Able to heal others
-When happy, is able to fly
-When angry, strength increases to an incredibly high level
-When scared, speed increases dramatically
-When sad, lets off powerful waves of negative energy
Weaknesses
-Is scared of new people
-Easily tricked
Family
-Starfall Soulimity (Mother)
-Kurayami Haydes (Father)
-Hyperfrost Soulimity (Adopted Father)
-Andromeda Soulimity (Half Older Sister)
-Kune Soulimity (Half Younger Brother)