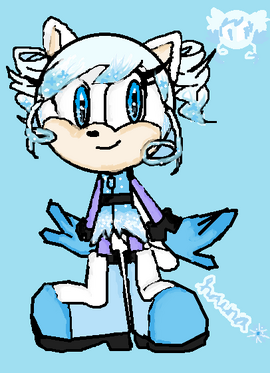 "
Hi! Names Hauna!
" -
Hauna the Cat
Hauna the Cat is a fan character made by User:Yumna The Cat
Personality
Hauna is a kind, smart, intelligent 6 years old girl. She's the smartest one in the family. She can make her siblings do what she wants by showing her cuteness.
Abilities
Hauna has an ice and snow power. If she in a place with hot temperature, her energy decreases.
Real Name
Her real name is "Hauna Terrissa Wilson", but her friends know her as "Hauna the Cat".
Relationships
Spike the Fox [1]
Age:13
Spike the Fox or Jack Wilson. Jack is her big brother. His name used to be Jack Wilson but his mother gave him the nickname "Spike" when he was 3 years old. Sometimes he likes to annoy his sisters. He's kind of sefish sometimes, but he's kind and has a lot of ideas to solve problems. He has claws and lightning powers.
Yumna the Cat
Age:10
Yumna The Cat or Yumna Terrissa Wilson. Yumna is her big sister. She has telekinetic and telepathy powers. She always hang out with Spike. She's a kind, generous, honest, funny 10 year old girl.
Eliya Terissa Wilson
Age:31
Eliya is Yumna, Spike and Hauna's mother. She's the responsible one in the family. Her husband is Andrew Wilson. She has lightning powers and telekinesis just like her daughther and her son.
Andrew Wilson [2]
Age:47
Andrew is Yumna, Spike, and Hauna's father. He's only staying home with the kids. His wife is Eliya Terissa Wilson. He has an ice power just like his third daughter.
Passion The Hedgehog
Age:6
Passion at times can be innocent and sweet. She prefers to hang around people she knows and can be very clingy. On other occasions, Passion has a sour side! She can have quight a temper when she doesn't like something. She tends to jump from one emotion to the next. Though she's adorable.
Theme
Also known
"My little kitty" by her father.
"Terrisa" by Yumna.
"Isa" by her mother.
Likes
her family
winter
ice's
blue
Dislikes
anoyyed by spike
bullies
fire
Trivia
Hauna is part of Team amazing (members: Yumna, Spike, Hauna).
Hauna is part of the Wilson family.
Gallery