Justin Bieber is a character owned by Catswolves4life. I am currently not accepting criticism on this character.
Basic Information
Name: Justin Bieber
Age: 21 years-old
Gender: (presumably) Male
Birthday: March 1, 1994
Nationality: Canadian
Occupation: Singer, songwriter
Religion: Christianity
Story/Early Life
Bieber was born on March 1, 1994, in London, Ontario, at St Joseph's Hospital, and was raised in Stratford, Ontario. He is the only child of Jeremy Jack Bieber and Patricia "Pattie" Mallette. Bieber's parents were never married. Pattie raised her son with the help of her mother, Diane, and stepfather, Bruce. His mother is of French-Canadian descent; his paternal great-grandfather was of German ancestry, and his other roots are English and Irish. He has also stated that he believes that he has some undetermined Aboriginal Canadian ancestry.
Through Jeremy, Bieber has two younger half-siblings, Jazmyn (born 2009) and Jaxon (born 2010). Pattie worked a series of low-paying office jobs, raising Bieber as a single mother in low-income housing. Bieber has maintained contact with his father.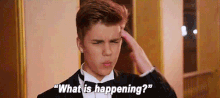 Bieber attended a French-language immersion elementary school in Stratford, the Jeanne Sauvé Catholic School. Growing up, he learned to play the piano, drums, guitar, and trumpet. He graduated from high school in Stratford, Ontario, the St. Michael Catholic Secondary School in 2012 with a 4,0 GPA. In early 2007, aged 12, Bieber sang Ne-Yo's "So Sick" for a local singing competition in Stratford and was placed second. Mallette posted a video of the performance on YouTube for their family and friends to see. She continued to upload videos of Bieber singing covers of various R&B songs, and Bieber's popularity on the site grew.
Relationships
Selena Gomez: On again, off again relationship. He claims to really love her, but it is unsure if he really does or if he just wants her body.
Taylor Swift: Major rival/enemy. Taylor Swift hates him for terrorizing her best friend, Selena Gomez. The feeling is mutual for Bieber.
Usher: Justin sees him as a friend and as a mentor.
Miley Cyrus: Close friend, and fellow party animal.
Gallery