"Dude its only five meters" -Spike the fox. talking to yumna.
Spike the fox belongs to user:Spike.T.F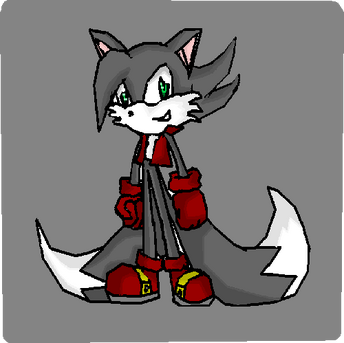 Personality
Spike is brave, smart, and little selfish at times. Spike has lots of ideas to solves his problems.
Abilities
Spike has lightning powers; he also has claws in his knuckles and spikes in his tails.
Real name
Jack Wilson is his real name. When he was 3, his mother gave him a nickname. She named him "Spike" because he born with very sharp claws.
Relationships
Hauna the Cat (Hauna Terissa Wilson. 6 years old)
Hauna the Cat or Hauna Terissa Wilson. She's spike's little sister. She loves her family. She's kind and smart. She has ice and snow powers.
Yumna the cat (Yumna Terissa Wilson. 10 years old)
Yumna is a kind, honest, generous and funny 10 year old girl. She's loyal to her family. Sometimes she's a little shy. Yumna is spike's little sister
Eliya Terissa Wilson (31 years old)
Eliya is Yumna, Spike and Hauna's mother. She's the responsible one in the family. Her husband is Andrew Wilson. She has lightning powers and telekinesis just like her daughther and her son.
Andrew Wilson (48 years old)
Andrew is Yumna, Spike, and Hauna's father. He's only staying home with the kids. His wife is Eliya Terissa Wilson. He has an ice power just like his third daughter.
Fears
He's afraid of ocean. He's not afraid of water but he is afraid of the wide, vast, ocean.
Theme.
Also known as (AKA)
"Dude" by Yumna sometimes.
"Spiky" by his mother.
"Jack" by his father.
likes
relaxing
hotdog
hanging out with Yumna
his family
dislikes
Beaches
The Ocean
Yumna annoying him
Hauna annoying him
trivia.
Spike is part of the Wilson family.
is part of Team Shooting Star (members: Yumna, Spike, Hauna).
Gallery